POLICY
Making Spa and Nail Care more accessible
The inspiration behind the creation of Para Spa.
Naturally derived botanical ingredients such as Jojoba oil are used in all Para Spa products.
Monthly nail care sessions turn into self pampering sessions in luxurious aroma filled private rooms. Highly nourishing Para Spa products also help to protect against various ageing issues like dullness and loss of firmness.
An exquisite experience that calms the body and excites the senses.
Para Spa, the salon exclusive brand with products made from natural plant extracts and essential oils.
A luxury spa and nail concept store where one can enjoy high quality body care.
An exquisite experience that will both calm the body and excite the senses.
Have you ever thought to yourself?

"Gel manicures have damaged my nails and made them thin."
"My nails peel and they have other issues too"
"I want to take a break from gel nails"

Being confident of your hands.

"I want to try getting a gel manicure"
"I am not confident about my hands"
"My company does not allow me to do my nails but I want my hands to look beautiful"

If these thoughts have crossed your mind…
You can change it. Get ready to meet the new you.

NAIL CARE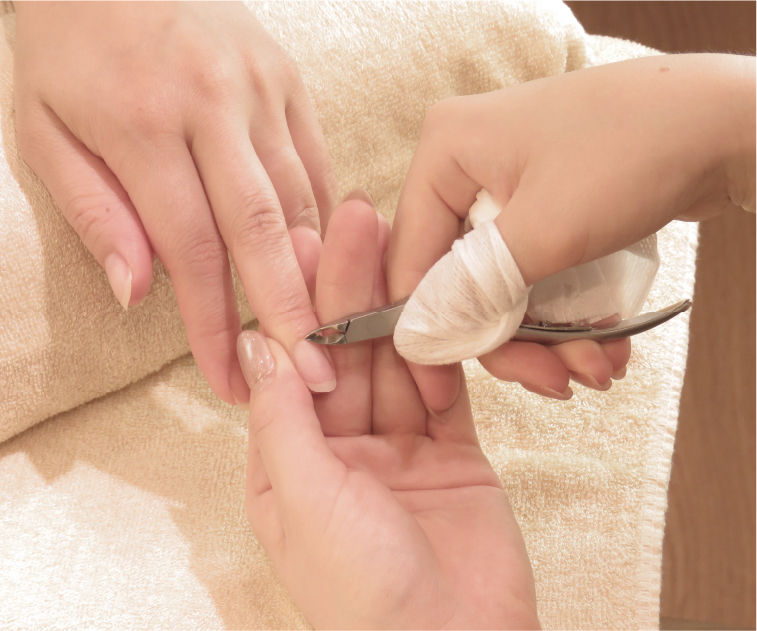 Nail Care
Nail shaping and Cuticle care services.
Having your nails done in a salon means having beautiful professionally done nails. Taking care of your nails and skin in between salon visits, means maintaining the ideal nail and skin condition.
STEPS Nail Care Special Treatment (approx 70min)
01 Nail Shaping

02 Cuticle Care

03 Scrub

04 Hand Oil

05 Oil Treatment Spa

06 Hand Cream

07 Moisturizing Milk

FOOT SPA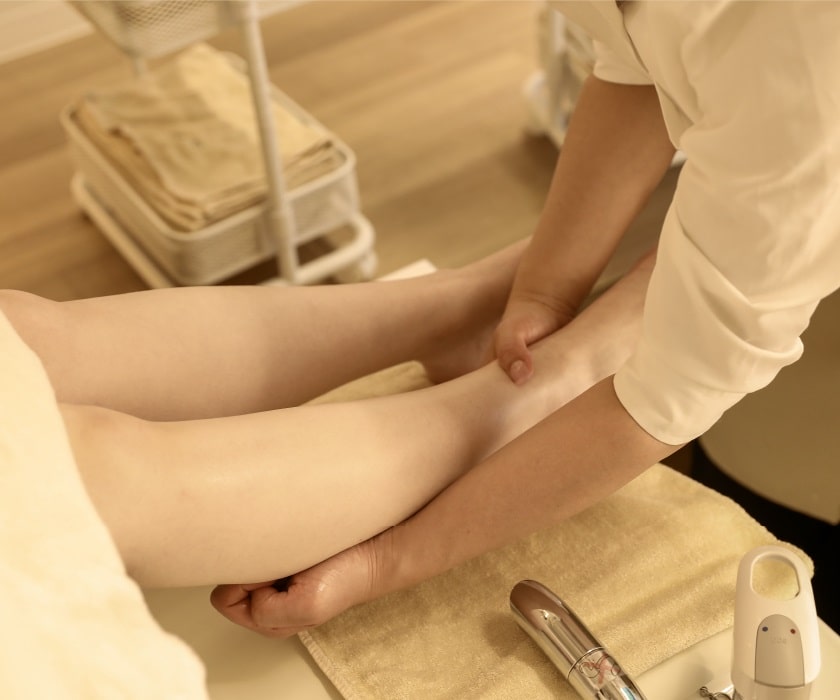 Foot Spa
In addition to Nail shaping and Cuticle care, the moisturizing ingredients are also absorbed into the skin through carefully designed steps.
Wrapped in a delicious aroma, the skin is softened and moisturized.
Dead skill cells and dirt that cause dryness are carefully removed by professionals.
Relaxation is achieved through soothing and stimulating treatment that helps relieve tiredness and puffiness.
STEPS Foot Spa - Foot Sole Moisturizing Treatment (approx 70min)
01 Foot Bath

02 Rinsing

03 Foot Sole Care

04 Scrub

05 Oil

06 Oil Treatment Spa (short)

07 Moisturizing Milk

HAND CARE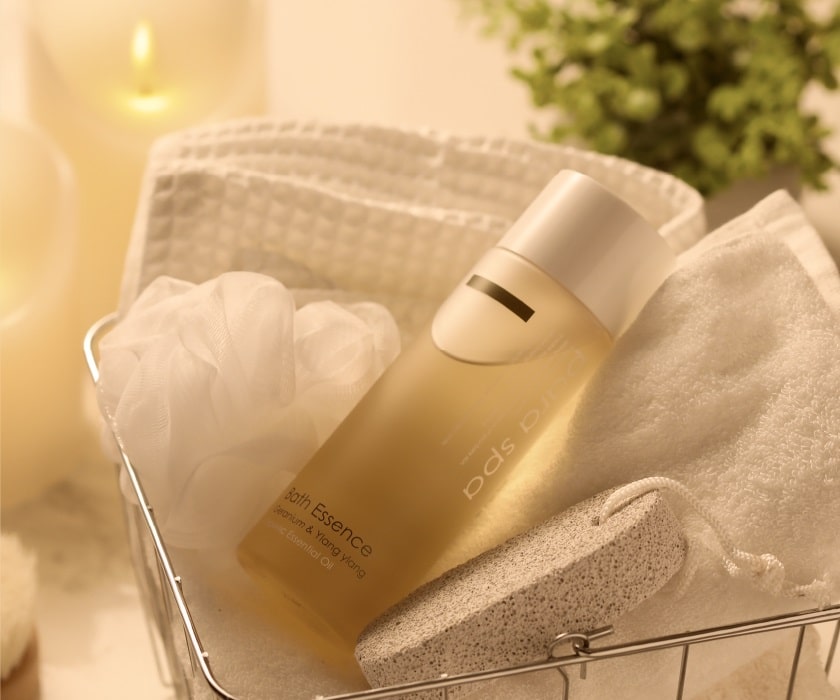 Hand Care
A highly relaxing spa treatment that moisturizes and calms the body and mind.
Gentle but firm pressure that is felt from your elbows to your fingertips.
Stress and tightness in the palms melt away, and the skin is deeply moisturized.
STEPS Hand Spa and Treatment (approx 50min)
01 Hand Bath

02 Scrub

03 Hand Oil

04 Oil Treatment Spa (Fingers and Hands)

05 Oil Treatment Spa (Wrist to Elbow)

06 Hand Cream

07 Moisturizing Milk

NAIL SERVICES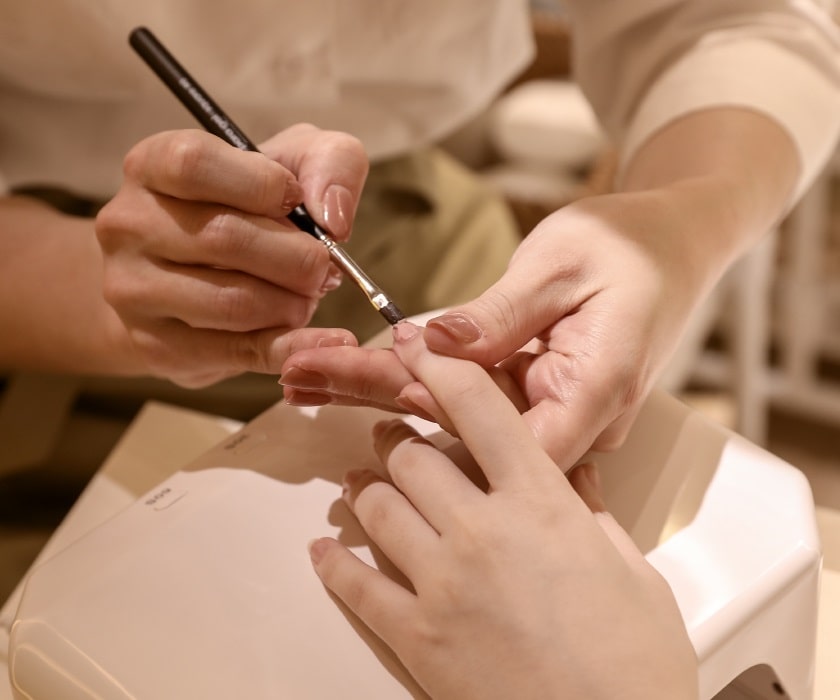 Nail Services
Unlike conventional gels, nails remain healthy as buffing is not required.
Fun and intricate Nail Art can be achieved with Para Gel, and Para Polish can be used for Elegant Solid Color designs. Healthy natural nails due to the no-buffing formula mean you can continue to enjoy gorgeous gel nails without having to give your nails time to rest.
STEPS Feet Services - Solid Color (approx 60min)
01 Foot Bath

02 Rinsing

03 Nail Shaping

04 Cuticle Care

05 Color Selection

06 Gel Polish application

07 Oil